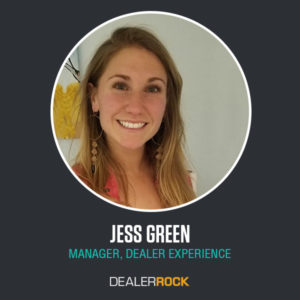 We are thrilled to announce the addition of Jess Green to the DealerRock team as our new Dealer Experience Manager! With a wealth of experience in customer service, Jess will be instrumental in ensuring our dealerships have the best possible experience when using the DealerRock platform.
Jess brings with her a proven track record of success in the client services industry. Her experience draws from working with agencies on streamlining operations to building her own company. In both roles, she has consistently demonstrated a commitment to putting the customer first. Her ability to build relationships and her passion for delivering exceptional customer experiences make her an ideal fit for our team.
In her new role, Jess will be responsible for overseeing all aspects of our dealer experience strategy. She will work closely with our sales, marketing, and support teams to ensure that our dealers receive the highest level of service and support possible. From onboarding new dealers to addressing their concerns and feedback, Jess will be dedicated to creating a seamless and enjoyable experience for dealerships using the DealerRock platform.
We are confident that Jess's expertise and passion for customer service will have an immediate impact on our business. By placing the dealer experience at the center of everything we do, we will be able to build stronger relationships with our dealers and create a culture of dealer-centricity that will drive our success for years to come.
Please join us in welcoming Jess to our team. We are excited to have her on board and look forward to the great things she will accomplish in her new role!